Avital Avina
Departmental Lecturer in Chinese Politics and Modern History
I work on the history and politics of modern China, with a particular focus on political communication, visual culture, nationalism, and violence. I am principally drawn to propaganda and political art, looking at how governments and people interact with each other through the medium of visual culture. In both my research and teaching, I aim to utilise novel methodologies and challenge existing narratives, looking at politics and history through new and sometimes provocative angles.
In addition to my joint role within the Politics and History faculties, I am also an associate of the Dickson Poon China Centre at the University of Oxford and a member of St Cross College.
Research
My research has explored methods that the Chinese government during the Maoist era utilised to communicate the ever-changing political sphere to the masses. Proposing new methods for interpreting propaganda posters through linguistic-based methodology, I unpacked the methods used by the government to motivate and encourage women during the Cultural Revolution (1966-1976), particularly within the realms of violence and factional infighting. I have also explored the use of colour as a linguistic element in Chinese propaganda posters and how colour can mean so much more than literal, or even traditionally symbolic, signs.
In addition, I aim to develop my research into the visual imagery from various periods in Chinese history, particularly those focused on cultural policies, the portrayal of race and minorities, Chinese propaganda aimed at international audiences, as well as comparative studies of Socialist and authoritarian political regimes.
Research Interests
PRC politics and history; Political Communication; Nationalism and identity; Women in China; Propaganda; Propaganda posters and political art; Colonialism/Decolonisation; China; Taiwan; International Relations; Socialist and Authoritarian regimes.
Teaching
I teach on PPE 227: Politics in China, FS29: China Since 1900 and History and Historiography of Modern China.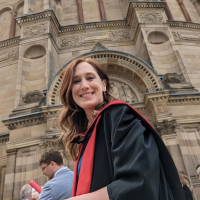 Publications
Avina, A. (2021) "Colour me Revolutionary", British Journal of Chinese Studies, 11, pp. 91-113.
Avina, A. (2017). Fascism in Manchuria. The Soviet–China Encounter in the 1930s, (Book Review), Routledge, Europe-Asia Studies, Vol.69(10), p.1669-1670.