Ivor Roberts
President, Trinity College
After reading Modern Languages at Keble College Oxford, I joined the British Diplomatic Service. In the course of the next 38 years, I was posted to Lebanon to study Arabic and then to Paris as a Third Secretary. I was subsequently posted to Canberra where, after working as a First Secretary in the political section, I was transferred to the newly independent Vanuatu (formerly the New Hebrides) as Political Advisor during a civil war. I returned to Canberra to become Head of the Economic and Commercial Section and Agricultural Advisor. On return to London, I became Deputy Head of the Foreign Office's Press Department and later Head of Counter-Terrorism. A posting as Minister in the Embassy in Madrid followed. Thereafter I became Chargé d'Affaires and later Ambassador at Belgrade during the Bosnian cvil war and the descent into war in Kosovo. My penultimate posting was to Dublin as Ambassador, immediately following the signing of the Good Friday Agreement. I was then posted to Rome as Ambassador to Italy, a post I held till my retirement from the Diplomatic Service in 2006. The same year, I returned to Oxford on my election as President of Trinity College.
I was Chairman of the British School of Archaeology and Fine Arts at Rome for five years from 2007 to 2012 and am the President of Oxford University Rugby Football Club.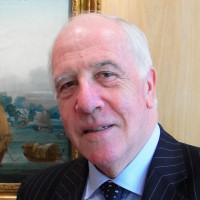 Teaching
I give regular talks on diplomacy, foreign affairs and international affairs in Oxford and more widely. I also write regularly on international, and occasionally domestic affairs for various newspapers and magazines.
Publications
Conversations with Milosevic (Serbian language version, 2012).
Satow's Diplomatic Practice, editor and major contributor (OUP, 2009).