Martin Ceadel
MA DPhil (Oxon)
Emeritus Professor of Politics
Fellow of New College
Having taught at the Universities of Sussex, 1973-4, and London (Imperial College), 1974-9, I returned in 1979 to Oxford, where I had been an undergraduate at Corpus, 1966-9, graduate at Nuffield, 1969-72, and junior research fellow at Jesus, 1972-3, this time as politics tutor at New College, working alongside first Alan Ryan and then Elizabeth Frazer. I was Oxford's co-ordinator for politics and international studies in the 1996 Research Assessment Exercise, and acted as head of the Department of Politics and International Relations in its "shadow" phase, 1999-2000. I am currently (2014-15) MPhil in International Relations Course Director.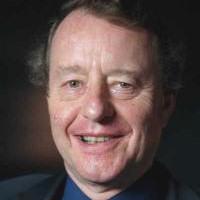 Teaching
For the BAs in Philosophy, Politics, and Economics (PPE) and History and Politics (HP) I at present teach the Prelims course (French, UK and US sections), the three international relations finals papers, and British politics and government since 1900. I also contribute regularly to the M.Phil in international relations, and have supervised D.Phil students in Politics, IR, and History.
Research summary
Research interests
Political Theory, Government, Constitutions, Institutions and Governments, Political thought and ideologies, Violence, security and conflict, Anarchism, History, Ideology, International relations, International security, Political Parties, Public Sphere, Social movements, Violence security and conflict
Publications
(excluding reviews and journalism), as at March 2014:
Books:
Pacifism in Britain 19141945: The Defining of a Faith(Oxford: Clarendon Press, 1980: ISBN 0198218826) x + 342 pp.
Thinking about Peace and War(Oxford: Oxford University Press, 1987: ISBN 0192192000; paperback edition 1989 ISBN 0192822314) 222pp.
The Origins of War Prevention: The British Peace Movement and International Relations, 1730-1854(Oxford: Clarendon Press, 1996: ISBN 0-19-822674-8) x + 587 pp.
Semi-detached Idealists: the British Peace Movement and International Relations, 1854-1945(Oxford: Oxford University Press, 2000: ISBN 0-19-924117-1) viii + 477 pp.
Living the Great Illusion: Sir Norman Angell, 1872-1967(Oxford: Oxford University Press, 2009: ISBN 978-0-19-957116-1) xiii + 438 pp.
Chapters and articles:
Interpreting East Fulham, in C. Cook & J. Ramsden (eds), ByElections in British Politics (London: Macmillan, 1973: SBN 333 14325 6) pp.11839 (revised edition, London: UCL Press, 1997: ISBN 1-85728-534-4).
The King and Country Debate, 1933: Student Politics, Pacifism, and the Dictators, Historical Journal 22 (1979), pp. 297-422.
Popular Fiction and the Next War, 19181939, in Frank Gloversmith (ed.), Class, Culture and Social Change: a new view of the 1930s (Brighton: Harvester Press, 1980: ISBN 039101739X), pp.16184.
The First British Referendum: the Peace Ballot, 19345, English Historical Review XCV (1980), pp.81039.
Christian Pacifism in the Era of Two World Wars, in W.J. Sheils (ed.), The Church and War: Studies in Church History no.20 (Oxford: B.H. Blackwell, 1983: ISBN 0 631 134069), pp.391408.
La Perception de la puissance par les partis et les hommes politiques britanniques, in Ren Girault and Robert Frank (eds), La Puissance en Europe 193840 (Paris: Publications de la Sorbonne, 1984: no ISBN), pp.30521.
Britains Nuclear Disarmers, in Walter Laqueur and Robert Hunter (eds), European Peace Movements and the Future of the Western Alliance (New Brunswick, USA and Oxford: Transaction Books, 1985: ISBN 0887380352), pp.21844.
British political parties and the European crisis of the late 1940s, in Josef Becker and Franz Knipping (eds), Power in Europe: Great Britain, France, Italy and Germany in a Postwar World, 19451950 (Berlin & New York: Walter de Gruyter, 1986: ISBN 0899252613), pp.13761.
Between the wars: problems of definition, in Richard Taylor and Nigel Young (eds), Campaigns for Peace: British Peace Movements in the Twentieth Century (Manchester: Manchester University Press, 1987: ISBN 071901829 7), pp.7399.
La Campagne pour le Dsarmement nuclaire (CND) (19581964) et lapproche britannique des relations internationales, Relations internationales no.53 (Paris: printemps 1988), pp.8391.
British parties and the European situation 195057, in Storia delle relazioni internazionali IV(i) (Florence: 1988), pp.16794.
Why People Disagree About War Prevention(Oxford: Oxford Project for Peace Studies Paper No.20, 1989: ISBN 1 871191 20 3) 13pp.
Norman Angell, Lord Robert Cecil, and Gilbert Murray, in Keith Robbins (ed.), Blackwells Dictionary of Political Biography (Oxford: Blackwells, 1990: ISBN 0631157689) pp.1517, 889, 3213.
The first Communist peace society: the British AntiWar Movement 19325, Twentieth Century British History i (1990), pp.5886.
Supranationalism in the British peace movement in the early twentieth century, in Andrea Bosco (ed.), The Federal Idea vol.1 The History of Federalism from the Enlightenment to 1945 (London and New York: Lothian Foundation Press, 1991: ISBN 1 872210 10 4, 1 872210 16 3 pbk) pp.16991.
Labour as a governing party: balancing left and right, in Terence Gourvish and Alan ODay (eds), Britain Since 1945 (London: Macmillan, 1991: ISBN 0333491572, 0333491580 pbk), pp.26372.
Pacifism, Modern History Review 3(1) Sept.1991, pp.267.
LOxford Union, lOctober Club et le pacifisme, in Franoise du Sorbier (ed.), Oxford 191939: un creuset intellectuel ou les mtamorphoses dune gnration? (Paris: Editions Autrement, 1991: ISBN 2862603333), pp.14558.
Morel, Edmund Dene, in C.S. Nicholls (ed.), Dictionary of National Biography: Missing Persons (Oxford: O.U.P., 1993: ISBN 0-19-865211-9) pp.475-6.
A Pro-War Peace Movement?: The British Movement for Collective Security, 1936-1939, in Maurice Vaisse (ed.), Le Pacifisme en Europe des annes 1920 aux annes 1950 (Brussels: Bruylant, 1993: 2-8027-0849-X), pp.167-92.
Sir William Randal Cremer, in Karl Holl and Anne C. Kjelling (eds), The Nobel Peace Prize and the Laureates: The Meaning and Acceptance of the Nobel Peace Prize in the Prize Winners Countries (Frankfurt: Peter Lang, 1994: ISBN 3-631-46252-2), pp.49-70.
Attitudes to War: Pacifism and Collective Security, in Paul Johnson (ed.), 20th-Century Britain: Economic Cultural and Social Change (London: Longman Higher Education, 1994: ISBN 0 582 22817 4), pp. 221-41.
Conscientious objectors, in I.C.B. Dear (ed.), The Oxford Companion to the Second World War (Oxford and New York: Oxford University Press, 1995: ISNBN 0-19-214168-6 and 0-19-866225-4), p.263.
Ten Distinctions for Peace Historians, in Harvey L. Dyck (ed.), The Pacifist Impulse in Historical Perspective (Toronto: Toronto University Press, 1996 [8 June]: ISBN 0-8020-0777-5), pp. 17-35.
Pacifism, in Robert Wuthnow (ed.), The Encyclopedia of Politics and Religion (2 vols; Washington, DC: Congregational Quarterly Inc., 1998: ISBN 0-415-18740-00) vol.1, pp.581-5.
A Legitimate Peace Movement: the Case of Interwar Britain, in Peter Brock and Thomas Socknat (eds), Challenge to Mars: Essays on Pacifism from 1818 to 1945 (Toronto: Toronto University Press, 1999: ISBN 0-8020-4371-2), pp.134-48.
The Opposition to War, in Peter Liddle, John Bourne, and Ian Whitehead (eds), The Great World War 1914-45 vol.2 The Peoples Experience (London: HarperColllins, 2000: ISBN 0 00 711633 0), pp. 435-49.
The Quaker Peace Testimony and its Contribution to the British Peace Movement: an overview, in Quaker Studies 7 (1), Sept. 2002: ISSN 1363-013X, pp.9-29.
Pacifism and Pacificism, in Terence Ball and Richard Bellamy (eds), The Cambridge History of Twentieth-Century Political Thought (Cambridge: Cambridge University Press, 2003: ISBN 0 521 56354 2 hardback), pp. 473-92.
Sir Norman Angell, Lord Robert Cecil, and Maxwell Garnett, in H.C.G. Matthew and Brian Harrison (eds), Oxford Dictionary of National Biography (Oxford: Oxford University Press, 60 vols, 2004).
The Alabama Claims, the Geneva Arbitration of 1872, and their significance in Britain, in Roger Durand with Jean-Daniel Candaux and Antoine Fleury (eds), Genve et Paix: Acteurs en Enjeux: Trois Sicles dHistoire (Geneva: Association Genve: un lieu pour la paix, 2005: ISBN 2-940336-02-4), pp. 101-121.
Gladstone and a Liberal Theory of International Relations, in Peter Ghosh and Lawrence Goldman (eds), Politics and Culture in Victorian Britain: Essays in Memory of Colin Matthew (Oxford: Oxford University Press, 2006: ISBN 0-19-925345-6), pp. 74-94.
Cobden and Peace, in Anthony Howe and Simon Morgan (eds), Re-thinking Nineteenth Century Liberalism: Richard Cobden Bicentenary Essays (Aldershot: Ashgate, 2006: ISBN 13: 078-0-7546-5572-5), pp. 189-207.
Foreword, in Peter Brock, Against the Draft: Essays on Conscientious Objection from the Radical Reformation to the Second World War (Toronto: University of Toronto Press, 2006: ISBN-13 978-0-8020-9073-7), pp. ix-xi.
Gilbert Murray and International Politics, in C.A. Stray (ed.), Reassessing Gilbert Murray: Hellenism, Theatre and International Politics (Oxford: Oxford University Press, 2007: ISBN978-0-19-920879-1), pp.217-37.
Pacifism versus Pacificism, in Nigel J. Young (ed.), The Oxford International Encyclopedia of Peace (4 vols, New York: Oxford University Press, 2010: ISBN978-0-19-533468-5), iii. 323-5.
The founding text of international relations? Norman Angells seminal yet flawed The Great Illusion, 1909-38, Review of International Studies, 37 (2011), pp.1671-1693.
Arthur Henderson: An Evolving Liberal Internationalist among Labour Little-Englanders, in Clare V.J. Griffiths, James J. Nott, and William Whyte (eds), Classes, Cultures, and Politics: Essays on British History for Ross McKibbin(Oxford: Oxford University Press, 2011: ISBN 978-0-19-957988-4), pp. 247-62.
Enforced Pacific Settlement or Guaranteed Mutual Defence? British and US Approaches to Collective Security in the Eclectic Covenant of the League of Nations, International History Review 35/3 (2013) available July 2013 at: http://www.tandfonline.com/doi/full/10.1080/07075332.2013.817471.
Pacifism in Jay Winter (ed.), The Cambridge History of the First World War (3 vols, Cambridge: Cambridge University Press, 2014: ISBN 978-0-521-76653-1), ii, The State , pp.576-605.
The Academic Normalization of International Relations at Oxford: Structures Transcended, in Christopher Hood, Desmond King, and Gillian Peele (eds), Forging a Discipline: A Critical Assessment of Oxfords Development of the Study of Politics and International Relations in Comparative Perspective(Oxford: Oxford University Press, 2014: ISBN 978-0-19-968221-8), pp.181-98.
The peace movement: overview of a British brand leader,International Affairs90:2 (2014), pp.352-65.