Maxim Chupilkin
Research Topic:
Wartime Trade at its Most Granular: Leveraging Customs Statistics
AFFILIATION
International Relations Network
Course
DPhil International Relations
Maxim is pursuing a DPhil in International Relations at the University of Oxford and works as an Associate Economist at the European Bank for Reconstruction and Development. His primary research interests are in geopolitics and international political economy. For his DPhil, he is investigating the granular mechanisms of wartime trade.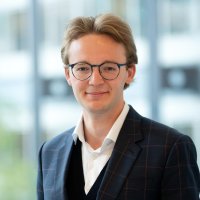 Publications
"Exorbitant Privilege and Economic Sanctions", with B. Javorcik, A. Peeva and A. Plekhanov, EBRD Work. Paper, 2023
"The Eurasian Roundabout: Trade Flows into Russia Through the Caucasus and Central Asia", with B. Javorcik and A. Plekhanov, EBRD Work. Paper, 2023
"The impact of the 2023 earthquakes on Turkiye's economy: First estimates", with CG Aksoy, R. Kelly, Z. Koczan, A. Plekhanov, Vox EU, 2023
"What is the likely impact of the earthquakes on economic growth in Turkiye?", with CG Aksoy, R. Kelly, Z. Koczan, A. Plekhanov,Economics Observatory, 2023
"The Economic Consequences of War: Estimates Using Synthetic Controls", with Z. Koczan, EBRD Work. Paper, 2022
"The Economics of Post-War Recoveries and Reconstructions", with Z. Koczan, Vox EU, 2022
"The Economics of War and Peace", with Z. Koczan, EBRD Transition Report, 2022
"In the shadow of the war", with A. Plekhanov and Z. Koczan, EBRD Regional Economic Prospects, 2022
"Bittersweet recovery", with A. Plekhanov and Z. Koczan, EBRD Regional Economic Prospects, 2021
"Lessons of Past Crises: the 1973 Oil Crisis", with I. Makarov, Russia in Global Affairs, 2021 (RU)
"The History of Pandemics Gives Globalization a Positive Outlook." Russian Council, 2020 (RU)
"Endless in Time and Tasks: EU Demands More Democracy." Carnegie Moscow Center, 2019 (RU)
"Downward Mobility." Politikon: The IAPSS Journal of Political Science 41: 58-65, 2019