Samantha Potter
Research Topic:
International Relations and Outer Space Governance
Course
MPhil International Relations
I am a USAF Acquisition Officer at Hanscom Air Force Base in Massachusetts in the US. I was previously a MPhil Candidate in International Relations. My research focused on outer space governance and regime building as well as the role of emerging technologies in international relations. Previously, I studied migration and its impact on military operations. I am a graduate of the United States Air Force Academy, having studied law and English literature as well as Russian. I previously interned with the Secretary of the Air Force General Council, working on military, international, and intelligence legal issues. In 2018, I was awarded the Holaday Scholarship to attend the University of Oxford. Following the successful completion of my degree, I will work as an acquisition officer in the United States Air Force.
Languages
Russian (intermediate proficiency),
Spanish (elementary proficiency)
Research
My research interests include:
International law,
International relations,
International security,
Laws of war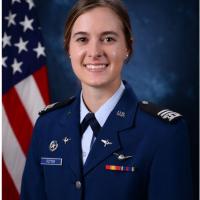 Publications
Potter, S, (2020) 'Have We Finally Moved Past the Unilateral Age of Apollo? The Aremis Accords, Explained',  The Oxford Politics Blog
Potter, S, (2018) 'Fear the Little Green Men: Holding Russia Accountable in Ukraine', New York University Undergraduate Law Review 
Potter, S, (2017) '50 Years Was Too Long to Wait: Updates to the International Refugee Legal Regime', Arkansas Little Rock Law Review
Conference Papers and Presentations
Potter, S, (2020) 'Ensuring Star Trek Instead of Star Wars: A Constructivist Case for a Rules-Based Regime in Outer Space', Warwick University Graduate Conference 
 Potter, S, (2017) 'Updates to the International Refugee Legal Regime', Colorado Springs Undergraduate Research Forum