Susan Divald
Research Topic:
Autonomy claims of ethnic minorities
AFFILIATION
Government and Politics Network
I have recently defended my doctorate in Politics. I have been based at St Cross College, supervised by Professor Gwendolyn Sasse.
I have long been intrigued by the question of how to manage ethnic diversity in our increasingly multicultural societies – diverse with 'old' and 'new' minorities. My doctoral project titled "The Many Faces of Autonomy: The Normalised Dynamics of Claiming 'Autonomy' Through a Creative Policy Game" examines how Hungarian minority political elites in Romania and Slovakia pursue autonomy through a strategy of creative claim-making across the policy areas of education, culture, language and regional development. I highlight the key role of the local level, kin-state support and EU funding schemes in promoting the pursuit of autonomy. My research has taken me on different trips to Slovakia and Romania for interviews with politicians, experts and civil society activists, along with visits to different newspaper archives. I was a visiting doctoral student at the Central European University's (CEU) Nationalism Program in Budapest, Hungary from Jan-Aug 2017. 
I'm keen to maintain a link between the ivory tower and policy world, and to pass on good research and analytical skills to those whom I teach. I have taught different courses on EU and European politics to undergraduates, as well as qualitative research methods through the qualitative software NVivo to graduate students and researchers. I also successfully completed the "NVivo Expert" certification by QSR which allows me to train other NVivo users. Although I have mainly focused on qualitative research, I am also trained in quantitative methods and STATA. 
Outside of my doctoral work, I was researcher for the EU-funded ETHOS Project which resonates with my interest on minority integration and authored the 4.4 Report "Trojan Horse Controversy: Mapping the Construction of Justice in UK Media" in 2019. After the DPhil, I collaborated as a Consultant for the Goldman Sachs' 10,000 Small Businesses (10KSB) Programme hosted by the Saïd Business School. At 10KSB, I further developed the curriculum taught to our business leaders which aims to promote business growth and job creation. I was also a Consultant for the International Labour Organization on a project researching how "e-formality" policies can promote the transition from the informal economy to the formal economy of both workers and economic units. I now work for the British civil service.
Before beginning my doctorate, I spent a few years working in Geneva, Switzerland for the United Nation's International Labour Organization, as well as for its Budapest office. I worked on issues touching on employment and education, including a focus on the Roma. I completed my BA in Political Science at McGill University in Montreal, Canada. I also hold an MPhil in European Politics & Society from Oxford (Merton College).
Teaching
I am teaching/have taught:
Politics of Europe (undergraduate)
Politics of the European Union (undergraduate)
Qualitative Methods - NVivo (graduate research methods workshop for Politics Department)
NVivo Up & Running (IT Learning Centre)
NVivo Data Analysis & Professional Practice (IT Learning Centre)
PPE Admissions Interviews
I have also completed different professional development trainings including:
Leadership in Action Workshop
Research Integrity Training
Admissions Interview Training
Springboard Development Programme
And additional methods training:
NVivo Expert Certification - January - April 2019
European Consortium for Political Research (ECPR) – Survey Design and Analysis; August 2018
European Consortium for Political Research (ECPR) – Nvivo for Qualitative Data Analysis; July 2017
ILO Training "School to work transition data analysis for evidence-based policy intervention for youth employment"; July 2014
Awards
Best Doctoral Student Paper Award on Central Europe: ASN World Convention, New York May 2018
DPIR Norman Chester Fund 2017, 2018, 2019; Maurice Latey Fund 2019
St Cross College Travel and Research Fund 2018, 2019
Scatcherd Scholar at CEU - January - August 2017
DPIR DPhil Studentship 2015-2017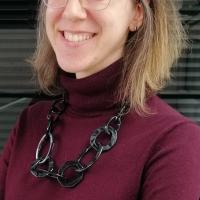 Publications
Policy Report, "E-formalization Case Study e-Estonia: A Digital Society for the Transition to Formality", International Labour Organization, Geneva, April 2021. 
Journal Article, "Looking to the Past to Survive the Future: The Hungarian Minority in Slovakia", part of Special Issue "Here to Stay: Politics of History in Eastern Europe", East European Politics & Societies, March 2021, https://doi.org/10.1177/0888325420953490.
Working Paper, "The Trojan Horse Controversy: Mapping the Construction of Justice in UK Media", EU ETHOS Project, 2019.
Information Note, "Training for Rural and Economic Empowerment (TREE)", International Labour Organization, 2017.
Internal Background Paper, "Promoting Decent Work Opportunities for Roma in Central and Eastern Europe", International Labour Organization, Budapest, 2015.
Working Paper "Comparative Analysis of Youth Employment Policies in Asia and the Pacific", International Labour Organization, Bangkok, 2015.
Book Review "Religion, Intolerance, and Conflict: A Scientific and Conceptual Investigation" Edited by S. Clarke, R. Powell, and J. Savulescu 2013, New Blackfriars, September 2014.
Book Review "God and the Atlantic: America, Europe and the Religious Divide" by T.J. Howard 2011,New Blackfriars, May 2013.
How to Protect Minorities: An Individual or Collective Approach? International Council on Human Rights Policy Blog, November 2011. http://www.ichrpblog.org/2011/11/how-to-protect-minorities-individual-or.html
Conference Papers and Presentations
"Looking to the Past to Survive the Future: The Hungarian Minority in Slovakia", New Research on Europe Seminar: The Politics of Historical Memory in Eastern Europe, Center for European Studies, Harvard University, Cambridge, USA, 5 May 2021.
"Rethinking Autonomy: Travelling between Quantitative and Qualitative Approaches", Midwest Political Science Association Annual Conference, Chicago, USA, 14-18 April, 2021.
"Historical dynamite, conceptual confusion or tactical manoeuvres? Hungarian claims for 'autonomy' in Romania and Slovakia Post-EU Accession", Hungarian Society of Oxford University, 28 February 2020.
"Back to the Future and Forward to the Past: "Self-Determination" for the Hungarian Minority in Slovakia after 1990",  Association for the Study of Ethnicity and Nationalism (ASEN) Annual Conference, University of Edinburgh, 23-25 April 2019.
"A 'Bottom-Up' Strategy to Autonomy? The Hungarian minority's pursuit of autonomy examined in two small cities", International Studies Association (ISA) Annual Convention, Toronto, Canada, 26-30 March 2019.
"Insitutionalising Diversity in Eastern Europe: Analysing the Changing Claims to Autonomy of the Hungarians in Slovakia", University Association for Contemporary European Studies (UACES) Annual Conference, University of Bath, Sept 2018
"The many faces of autonomy: Understanding variation in the Hungarian claims to autonomy in Slovakia", Association for the Study of Nationalities (ASN) World Convention, Columbia University, New York, USA, May 2018

"The meaning of Hungarian Autonomy: Qualitative analysis of interviews and newspaper archives", Qualitative Hub, Department of Education, University of Oxford, April 2018.

"Too Much or Too Little? The Hungarian Quest for Autonomy in Romania and Slovakia - Research Design", CEU's Conflict & Security Research Group, Budapest, Hungary, June 2017
"Promoting decent work opportunities for Roma youth in Central and Eastern Europe", panellist, Validation Workshop, International Labour Organization, Budapest, Hungary May 2016.
"Research on Roma youth employment in Central and Eastern Europe", Technical meeting, International Labour Organization, Geneva-Budapest July 2015.
"What works for youth employment: Sharing policies from Asia and the Pacific", International Labour Organization, Bangkok, Thailand September 2014.