Life After DPIR: Frances Brown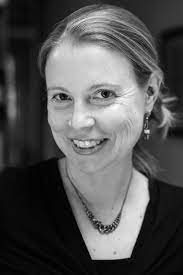 Frances Z Brown (2013, DPhil in International Relations) is a Senior Fellow at the Carnegie Endowment for International Peace, and co-director of Carnegie's Democracy, Conflict, and Governance Program. She has previously worked at the White House, USAID, and in non-governmental organisations. In her last role before leaving government, Brown served as director for democracy and fragile states on the White House National Security Council (NSC) staff.
---
How did you get your start in your career?
I worked in the Middle East during college. I was interested in the Middle East before September 11, which in the American political consciousness was an unusual thing, so I had a leg-up to get to the Middle East soon after I graduated college in 2002.
My first job in the Middle East was actually teaching high school and teaching history at a school in Beirut. From there I had a summer off because I was a schoolteacher and literally bought my own ticket to Kabul, Afghanistan in 2004 and volunteered at an NGO, the Asia Foundation, which was my first internship. Of course I set it up ahead of time but being able to say I will work for free and I will find my own way was a huge part of that.
From there I went back to Beirut and then the job offers got much easier in the post conflict space. I got a job offer at an NGO back in Kabul after my second year in Beirut doing exactly what I wanted to do which was working on Afghan governance issues and Afghan post conflict reconstruction issues. After doing that for a while I went back to grad school for the first time to get my Master's which I did here in Washington. From there pretty soon after I joined USAID.
Within my career I've woven between a few different milieus – one is the NGO world, the practitioner world in the post conflict reconstruction space. The second is the US Government – I've served for many years at USAID and more recently as a director at the White House on the National Security Council staff. The third area I've worked in is the research think tank academic world which is where my DPIR time came in and my current role comes in. It is not easy to weave between those three worlds and for any one of those three tracks you'll find your biggest challenge is getting your first foot in the door.  After that initial job, assuming you do a fabulous job, you will be amazed at how many job opportunities come to you in that field.
I'm almost 20 years out of my undergraduate degree and since then I've moved a lot between academia and the practitioner world. Whilst you probably won't be directing a programme or a think tank a couple of years after the MA, it is very much attainable down the line.
How did you transition into a career in think tanks?
After many years at USAID, I started to think that I wanted to transition into the research world and write about what I was doing rather than just keeping on doing it. This is where my lucky break came in – I applied for the Council on Foreign Relations which is a New York-based think tank which has a fellowship called the International Affairs Fellowship. This is basically designed for people in the 'doer' world to spend a year in research, and also the reverse, for people in the research world to spend a year in Government or policy. It is very competitive but if you win it's a fabulous opportunity to do exactly what I wanted to do which was to make this transition. So I did a year based at the US Institute of Peace and that allowed me to start writing and researching and publishing which is very important for the think tank world.
After my year there I had to go back to USAID but that's what inspired me to apply for the DPhil, which I then commenced about a year later. I kept working off-and-on in a consultancy capacity for USAID so was making progress on my DPhil and then, to the chagrin of my supervisor Richard Caplin, I got an offer to go and work in the White House for the final year of the Obama administration. I decided I couldn't say no so I had to go on leave from the DPIR – my supervisor may have wondered if I'd ever come back to finish but indeed I did. Little did any of us foresee that after a year of the Obama administration the Trump administration would come in. For a whole host of other reasons I stayed on for the first seven months of the Trump administration and after that period I was very excited to leave government once and for all and return to finish my DPhil.
During that period, after I left the White House, I began working part-time at the Carnegie Endowment – half-time working on policy issues with Carnegie, half time working on my dissertation. This was a great arrangement because one of the key issues writing any sort of dissertation is having a library and having an office so it was great for me. Of course it slowed me down in finishing the thesis but I did complete it in 2020 and moved into full-time work. It's been quite a winding road but I'm thrilled to be where I am now.
Has anything surprised you about working for a Think Tank?
Most think tanks do have to fundraise for any project – that is the downside of being in a wonderful institution where you get to do research for your job.  As you investigate the think tank world the important question to ask, if you are hired for a project, is how much time will you spend just trying to fundraise your own salary or salaries of people you are trying to work with – it can be an incredible attention and time suck, so it's certainly something to keep in mind.
What advice would you give to students and recent graduates on how to land that first think tank job? 
Coming out of undergrad I had very few hard skills in general but in particular Excel number-crunching – these are things that are actually really important, certainly in the NGO practitioner world but across many facets of the private sector as well.
But, my big advice for pretty much anyone is get out into the field – if you are interested in international affairs, go get field experience. It's one thing to have studied at school and at a think tank but I think my research is much more relevant because of my field experience. It's interesting, it's stimulating – all my best research ideas come from experience I have had as a practitioner rather than just sitting in my office in Washington.
I've never applied formally for a think tank job – there are some formal roles that are advertised but, especially at the senior scholar level, it's a lot of networking and ongoing conversations with programmes that you already know that create opportunities.
What do you look for when you're hiring people?
When I get a recommendation from somebody I know that says "this is a good person" – that speaks volumes. The two things they can tell me that are important are, firstly, that this is a very smart person that does good work and, second, that they are "no drama".
The number one thing I look for when hiring is previous publications. I also look for the ability of someone to be able to write for a policy audience. The vast majority of Carnegie senior scholars do have PhDs and so they do have academic credentials and many of them publish in academic journals as well but we do need to be able to speak to a policy audience as that's our main mission here.