Russell Bogue
Research Topic:
privacy, privacy rights, the historical and sociological development of privacy
I am currently a candidate for a DPhil in Politics (Political Theory). I write on the conceptualisation of privacy, including its historical evolution, and the possible justification(s) for privacy rights. Previously, I received my MPhil with distinction from the department in 2018, and I graduated from the University of Virginia in 2016 with a BA in Government and Foreign Affairs. When not in the DPIR, I can be found on the squash court. 
Awards
Rhodes Scholarship
Truman Scholarship
Jefferson Scholarship (University of Virginia)
Echols Scholarship (University of Virginia)
Research
My research interests include:
Political Theory,
Political thought and ideologies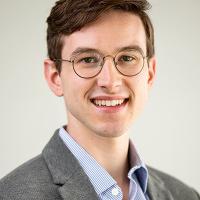 Publications
"Seeing and Being Seen," The Hedgehog Review 21.1 (Winter 2019) [forthcoming]
Conference Papers and Presentations
February 2018, Rothermere American Institute, Oxford: "Understanding Privacy"
May 2018, Sciences Po, Paris: "The Socio-Political Justification for Privacy"