John Helferich
MA International Security, SciencesPo Paris (summa cum laude)
AFFILIATION
International Relations Network
Course
DPhil International Relations
I am a second-year DPhil student in International Relations at DPIR researching security and defence cooperation in the Euro-Atlantic community. In an effort to develop a community-based account of European defence integration, my dissertation analyses the social motivations underlying two transformative phases of the EU's Common Security and Defence Policy. My broader research interests include International Relations & European Integration theory as well as Foreign-Policy Analysis. As an enthusiastic proponent of interdisciplinary research, my work and thinking are strongly influenced by evolutionary, sociological and psychological approaches to international politics.
Teaching: CMRS European Politics (Hilary Term 2022)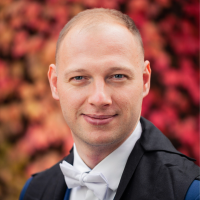 Publications
Helferich, J. N. (2020). Arms Export Controls Under Siege of Globalisation: Defeated Nation States Or Voluntary Surrender?. Tectum Wissenschaftsverlag.
Peer-reviewed Journal Articles
"Terrorist Learning Viewed Through a Strategic Lens: Explaining Daesh's Rise to Power". German Association for Security Policy, WISI, Feb 2021.
Book Chapters
"Path Dependencies and Cognitive Biases as Determinants of Foreign-Policy: The Trump Administration's Iran Policy". Springer Publishing, forthcoming 2022.
"Media-Jihad as Foreign-Policy: How Daesh Learnt and Failed to Exploit Western Vulnerabilities". Manchester University Press, forthcoming 2022.
Other
"Skeletons in Europe's Closet: Franco-German Strategy and the Legacy of Franz Josef Strauss". Le Grand Continent, forthcoming, Feb 2022.
"Is There a Need for a Europeanisation of Arms Export Controls?". Opinions On Security, German Atlantic Society, Nov 2021.
"The Power of Memes in Political Campaigning". Oxford Political Review, 3rd Issue, Jan 2021.
"Engaging Killer Performances - Strategies for Affective Engagement in Genocide Documentaries". Abstract published in DGPuK, Transfer 20(3) , 2016.
Conference Participation
European Consortium for Political Research (ECPR), General Conference 2020, Panellist: "Strategic Culture, Identity and Convergence in European Foreign Policy"