Neil MacFarlane
AB MA MPhil DPhil
Lester B. Pearson Emeritus Professor of International Relations
Fellow, St Anne's College
AFFILIATION
International Relations Network
Professor MacFarlane is a specialist on Russian foreign policy and the regional dynamics of the former Soviet Union, with particular reference to that regions southern tier. He is also interested in the impact of international organisations in the management and resolution of civil conflicts and also in the political and economic transitions of former communist states.
After a career in the United States and in Canada, he moved to Oxford in 1996 as the first Lester B. Pearson Professor of International Relations. From 2005 to 2010 he was Head of the Department of Politics and International Relations. From 2008 to 2010 he was Deputy Head of the Social Sciences Division at Oxford. He is currently a member of the Council of the University and serves on numerous University committees.
Beyond Oxford, he was a Faculty Associate of the Geneva Centre for Security Policy from 2004 to 2010. He held a visiting appointment at the College of Europe (Bruges) in 2007-2008, where he taught a course on the contemporary security agenda. In the summer of 2008, he was S. Rajaratnam Professor of Strategic Studies at the Nanyang Technological University (Singapore). He was a a visiting professor at the Centre for Social Sciences (Tbilisi State University, Georgia) from 2010 to 2013, and has a strong interest in higher education reform in the former Soviet Union.
He is an associate research fellow in the Russia-Eurasia Programme at Chatham House, and he chairs the board of the Center for Social Sciences, Tbilisi, Georgia.
Previous Posts
Professor of Politics, and Director of the Centre for International Relations, Queen's University, Canada. Assistant and Associate Professor of Government and Foreign Affairs, The University of Virginia, USA.
Research
International Organizations and Security, Human Security, The Soviet Union/CIS in International Relations
Media
Russian foreign and security policy
Central Asian and Caucasian affairs
International organization and conflict
Teaching
Professor MacFarlane lectures for undergraduate papers in international relations. He also participates in the teaching of the core paper in the MPhil in international relations, as well as delivering an optional paper on the USSR and Russia in World Politics. He continues to supervise doctoral students. He is co-convenor of the International Relations Colloquium.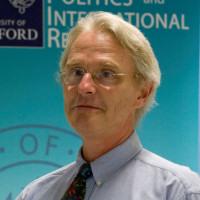 Publications
"Regional Organizations and Regional Security", Security Studies II, #1 (autumn 1992) (with Tom Weiss).
"Russian Conceptions of Europe", Post-Soviet Affairs X, #3 (July-September 1994).
"Democratisation and Regional Security in the Southern Caucasus," Government and Opposition XXXII, No.3 (summer 1997).
"Realism and Russian Strategy after the Collapse of the USSR," in Ethan Kapstein and Michael Mastanduno, eds., Unipolar Politics: Realism and State Strategies after the Cold War, (New York: Columbia University Press, 1999).
Intervention in Contemporary World Politics,Adelphi Paper 350 (London: IISS, 2002).
Intervention and World Politics (London: International Institute for Strategic Studies, 2002).
Politics and Humanitarian Action (Providence, RI: Brown University, 2002.
(with Rosemary Foot and Michael Mastanduno) US Hegemony and International Organization (Oxford: Oxford University Press, 2003).
"The United States and Regionalism in Central Asia", International Affairs 80, 3 (2004), pp.447-462.
"Is Russia an Emerging Power?" International Affairs, 82(1), 2006, pp. 41-58.
(with Yuen Foong Khong) Human Security and the UN: A Critical History (Bloomington, IN: Indiana University Press, 2006).
"The Evolution of US Policy towards the Southern Caucasus" (co-authored with George Khelashvili), Uluslararasliskiler (International Relations) (Turkey), Volume 7, No. 26 (2010), pp.105-126.
"Colliding Statebuilding Projects and Regional Insecurity in Post-Soviet Space: Georgia versus Russia in South Ossetia", Comparative Social Research, 27 (2010), pp.103-126.
Post-Revolutionary Georgia on the Edge (London: Chatham House, 2011).
Georgia: National Security Concept versus National Security (London: Chatham House, 2012).
"Georgia and the Political Economy of Statebuilding," in Mats Berdal and Dominik Zaum, ads., The Political Economy of Statebuilding: Power after Peace (London: Palgrave, 2013), pp. 306-323.
"Sovereignty and Self-Determination: Where Are We?", International Journal 68:4 (2013), pp.609-627.
"Regional Organizations and Global Security Governance," in Thomas Weiss and Rorden Wilkinson, eds., International Organization and Global Governance (Abingdon and New York: Routledge, 2014), pp.429-441.
"The United Nations and Human Security," Asian Journal of Peacebuilding 2:2 (November 2014).
"International Engagement and the Governance of Ethnic Diversity in Georgia," in Jane Boulden and Will Kymlicka, eds., International Approaches to Governing Ethnic Diversity (Oxford: Oxford University Press, 2015)
"Identity and Alignment in Central Eurasia," in Mohammed Ayoob and Murad Ismailov, eds., Identity and Politics in Central Asia and the Caucasus (Abingdon: Routledge, 2015), pp.158-180.
Two Years of the Dream: Georgian Foreign Policy, Chatham House Russia-Eurasia Programme Paper (London: Chatham House, 2015). Also published in Georgian by the Center for Social Sciences: ანალიტიკური ნაშრომი ს. ნილ მაკფარლეინი,რუსეთისა და ევრაზიის პროგრამა, აპრილი, 2015.