Andrew Payne
DPhil MPhil Oxon, BA Cantab
Hedley Bull Research Fellow in International Relations, DPIR
William Golding Junior Research Fellow, Brasenose College
AFFILIATION
International Relations Network
Andrew Payne is the Hedley Bull Research Fellow in International Relations at the Department of Politics and International Relations. His research examines the influence of domestic politics on US foreign policy, with a particular geographical focus on the Middle East. He is the author of a forthcoming book entitled All About Politics? How the American Electoral Cycle Shapes Wartime Decision-Making (Columbia University Press), which examines how electoral considerations influenced presidential decisions during the wars in Korea, Vietnam and Iraq. He is currently the Principal Investigator of a project examining the past, present and future US strategic commitment to the Middle East, supported by the OUP John Fell Fund. His broader interests include US foreign policy, international security, civil-military relations, and diplomatic history since 1945. His work includes several peer-reviewed journal articles which have been published or are forthcoming in International Security, Politics, Contemporary Politics and Presidential Studies Quarterly. His writing has also appeared in the Washington Post, International Affairs, and The Conversation. In addition to his academic work, Andrew serves on the board of the Royal Institute of International Affairs (Chatham House).
Research
Andrew's research interests include:
US Foreign Policy, Presidential Decision-Making, Military Strategy
Teaching
Undergraduate
214 - International Relations 
297 - International Security and Conflict
Graduate
The Development of the International System and Contemporary Debates in International Relations Theory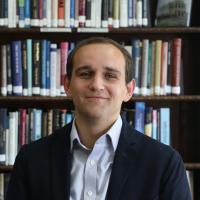 Publications
Articles and Book Chapters
"Bringing the Boys Back Home: Campaign Promises and U.S. Decision-Making in Iraq and Vietnam," Politics (forthcoming, published via OnlineFirst 18 August 2020)
"Presidents, Politics and Military Strategy: Electoral Constraints during the Iraq War," International Security, Vol. 44, No. 3 (Winter 2019/20), pp. 163-203
"The Cold War in the Middle East," in Louise Fawcett (ed.) International Relations of the Middle East, 5th edn, (Oxford: Oxford University Press, 2019) [With Peter Sluglett]
Blogs and Media
"Lost in Transition: How Trump's Lame Duck Presidency Could Have a Lasting Impact on US Foreign Policy," The Conversation, 10 November 2020
"October Surprise: How Foreign Policy Can Shape US Presidential Elections," The Conversation, 1 October 2020
"U.S. Electoral Constraints, Military Strategy, and the Iraq War," International Security: Off the Page Podcast, Episode 9, in discussion with Emma Sky and Morgan Kaplan, 18 June 2020
"War and the Ballot Box: What the Iraq War Tells Us About Military Escalation in an Election Year," OxPol Blog, 25 February 2020
"Trump just de-escalated in the Middle East. Here's why we shouldn't be surprised," The Monkey Cage, Washington Post, 11 January 2020
"Primary Primers: Three reasons why foreign policy negotiations during the 2020 campaign season are a bad idea," LSE USAPP, 13 June 2019
Book Reviews
Henry Kissinger and American power: a political biography, by Thomas A. Schwartz, in International Affairs, Vol. 96, No. 6 (November 2020), pp. 1689-1691
Planning to fail: the US wars in Vietnam, Iraq, and Afghanistan, by James F. Lebovic; and Why America loses wars: limited war and US strategy from the Korean War to the present, by Donald Stoker, in International Affairs, Vol. 96, No. 2 (March 2020), pp. 560-562
The last card: inside George W. Bush's decision to surge in Iraq, edited by Timothy Andrews Sayle, Jeffrey A. Engel, Hal Brands and William Inboden, in International Affairs, Vol. 96, No. 1 (January 2020), pp. 266-268
Working Papers
"'A Ridiculously Political World': Partisan Politics and Civil-Military Relations during the Iraq War" 
"It's the Politics, Stupid: Explaining US-Iran Relations Since 1979" [with Louise Fawcett]
"Dead Doves and Lame Ducks: How Failed Presidential Candidates Shape U.S. Foreign Policy"